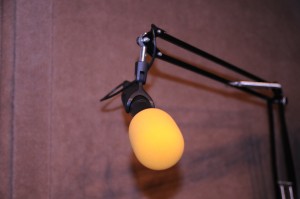 We take the complexity out of adding audio to your publication, or website, in the studio, or on location.
Our broadcast journalists and producers have over 15 years' experience creating and capturing content for outlets including the BBC, Financial Times, MSN, Reed and a wide range of corporate clients.
With our two fully-equipped, on-site studios, we can tackle most types of audio production, from recording a single audio clip or voiceover, to producing a radio show or podcast. We've even recorded demos for bands!
You can choose between our soundproofed and acoustically-treated main studio, our dedicated vocal booth/control room, or both.
Our audio suite is equipped with digital mixing equipment and Pro Tools, as well as ISDN codecs for remote links, voiceover work, interviews in quality or recording plain old telephone (POTS) calls.
This is backed up by IP-based links (including a dedicated Skype connection) and fibre broadband.
In the studio, we offer a full production service, simple dry hire, or dry hire with assistance for set up.
We've also years of experience of capturing quality audio on location. Whether you need a reporter/producer to record a set of interviews, or to record and live-stream a round table, contact us.