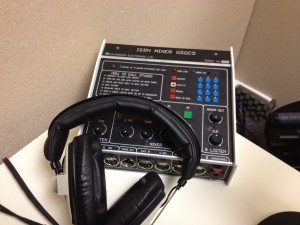 If you need a remote connection to another studio, a radio station, or a voiceover artist, we can help.
Our studios are equipped with multiple ISDN lines and codecs.
We have both Prodys and Glensound units (using the G.722 and MPEG protocols) for mono or stereo connections. We can feed any audio source to these units, from a simple voiceover to a complex mix.
Our voice studio is suitable for self-operation or operation with a presenter and producer or engineer, and up to three guest voices.
Or, for simple ISDN "remotes" you can also opt for our self-op Glensound ISDN mixer.
If you prefer IP connections to ISDN we can do that too: just contact us with your requirements.
If you need a larger space — say for a live feed from a round table or discussion programme, or even an event with a small audience — we can connect our acoustically-treated video studio to the sound studio's ISDN lines.
If you have an event at another venue, we can also provide our Glensound unit, with or without a technician, to feed audio from your event into our control room for recording and mastering. Subject to availability, it's also available for stand-alone hire, with a choice of mics.