Film here, appear anywhere
Green screen is one of the best ways to take control of your video.
Using a green screen, or chromakey, studio you can have any background you like, from a simple logo or chart, a photographic plate, live video footage or a virtual set. But filming in a studio gives control over lighting, sound and, especially the weather!

See the video clip above for an introduction to green screen video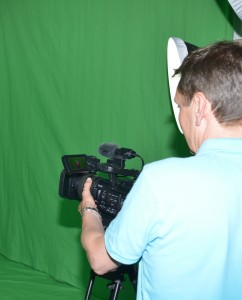 At our studios in South West London, we offer a full green screen production service.
Clients have used the studios for projects ranging from product videos, to pieces to camera, interviews, media training, and animation. As well as a green screen and lighting rig, the studio offers a range of backdrops and is acoustically treated.
When we film green screen footage, we use the latest, EBU-approved cameras to their full HD broadcast specification (50mbps, 422) or uncompressed using external recorders. This also allows us to use DSLRs or cinematic camcorders for more creative effects.
Our studio includes the green screen cyclorama background, additional green screen cloths, basic furniture and studio lighting. We can supply production monitors to view the footage, or you can also book our control room
You can either supply your own photographic backgrounds (or plates) or we can film or photograph these for you.
Green screen, go live
Our live vision mixer can also key footage, add graphics and titles, and record the result to a solid-state drive, to tape, or to a computer for compression and uploading to the web. This means you can film a session 'as live' and have it ready to take away, or take the unedited footage to pass to your own video editors.
Please see our Studio Hire pages for more information on the studio, or contact us for more information on creative options.